Healthy snacks for kids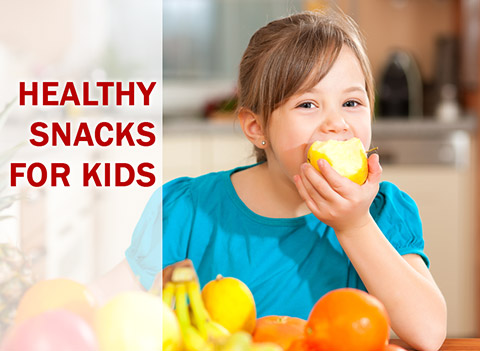 Active kids translate into voracious appetites. How can you keep little fingers out of the candy jar? With a bit of creative planning. Get some yummy and healthy snack ideas that will satisfy the littlest cravings. Here are easy-to-fix snacks and useful food-safety pointers to help you serve up fun, tasty, and healthy foods for kids.
Best school snacks
Cereal and juice. A surefire snack hit are quick-serve cereals and 100 percent fruit juice packs. Buy the mixed variety single-serve cereal packets. You might also want to freeze the juice packs for an icy treat or partially freeze the fruit juice and then blend it with fresh fruits or drained, juice-packed canned fruits for a refreshing slushy drink. (Note: Juice packs, water bottles, and other fluids help keep kids hydrated and refreshed during the warm weather. So keep plenty of fluids on hand.)
Fruit in a cup. Fruit is always a nutritious snack. Keep a store of individual-sized fruit cups, packed in natural juices and serve with animal crackers. (Remember to toss or refrigerate any fruit-cup leftovers.)
Fresh fruit. Apples, bananas, oranges, peaches, and other seasonal fruit are always great to have on hand. They're healthy, nutritious, and come nature-made, in handy single-serving portions. Try to always keep a supply in store.
PB and J crackers. Spread a reduced-salt cracker with your kid's favorite peanut butter and any flavor jelly or jam. (Note: Some children may be allergic to peanut butter.)
Nutty rice cakes. Spoon peanut butter or almond butter on unflavored rice cakes. For added goodness, create a happy face with a sprinkling of raisins, currants, or other dried fruit.
Make-it-yourself gorp. Combine equal amounts of raisins, dried dates, unsalted pretzels, and your child's favorite reduced-sugar cereal for a tasty trail mix. Store in an airtight container. (Note: The raisins and any other small items in the mix could cause choking in children younger than three or four.)
Pretzels and popcorn. Add no-salt Dutch pretzels or whole-grain pretzel sticks to your grocery list. Another open-and-pour snack is salt-free prepopped or individually bagged popcorn. (Note: Small kernels might cause choking in children younger than three or four.)
Pudding cups and crackers. Single-serving pudding cups with graham cracker chasers are another satisfying kid-approved treat. Get the prepackaged containers that you can pop the lid and eat. (Note: Refrigerate or throw out any leftovers.)
Applesauce cups. Serve applesauce with a sprinkle of cinnamon and nutmeg and two teaspoons of dried fruit, or a dried fruit mix. To raise the munch factor, add a mini-muffin on the side. (Throw out or refrigerate any leftover applesauce.)
Sticks with dip. Try carrot sticks for crunch appeal. Thoroughly clean and dry an empty yogurt container and lid. Pour a small amount of light salad dressing in the bottom of the container and stack carrot sticks or baby carrots on top.
Bread and cheese. Slice reduced-fat mozzarella, cheddar, or your cheesy favorite into long strips and serve with plain bread sticks.
Cookies and cream. For another easy fix, serve low-fat, flavored yogurt cups with chewy oatmeal or any other cookie variety.
Cheesy bagels. A satisfying snack: Top a mini-bagel with light cream cheese and a sprinkle of raisins.
Food-safety tip
For snacks that need cold storage, you might consider investing in an insulated lunch pouch. An insulated pack keeps cold foods safe and helps retain the temperature better than a paper bag or plastic lunch bag. Smaller pouches work better than larger ones because there is less air space to keep chilled. You can also keep perishable snacks cold by buying a frozen gel pack or freezer pack. However, cold packs are not designed for all-day use, so keep an eye on the clock. A snack packed in the morning should be eaten by lunch. Any lunchtime leftovers should be tossed, and the lunch bag thoroughly cleaned after every use.
Snacks for preschoolers
Here are some of quick and easy, kid-proof snacks for your preschoolers:
Try graham crackers with peanut butter (as long as no one is allergic to peanuts). Peanut butter is also great on rice cakes and apple slices. Another favorite is yogurt topped with cereal. Let the kids mix a couple of different types of cereal for their topping.
Another big hit is cottage cheese mixed with pineapple chunks or string cheese (kids love to pull it apart) and some bread sticks for crunch. Tuna salad on crackers is also a known crowd-pleaser.
Raw veggies are fun for the kids to dip in salad dressing: You can get the time-saving, pre-cut variety or fresh baby carrots found in the produce aisle. Fruit is also a healthy and sweet treat. If the kids are tired of grapes, bananas, and orange slices, try dried fruit. Dried apples, apricots, and figs (to name just a few) are Mother Nature's answer to candy.
You can make in a blender a frosty milkshake with milk, frozen yogurt, and frozen strawberries. (Don't forget the straws!)
Snacks for toddlers
Toddlers are the ultimate Duracell Bunny: They keep going…and going…and going. To keep these little bundles of energy moving, toddlers need, on the average, approximately 1,000 to 1,300 calories a day. Because their tummies are smaller than adults, they can't eat enough in three meals to meet their needs. So snacks become an important time to satisfy their appetites and nutritional needs.
Snack foods should be items that are missing from other meals, so that at the end of the day, little Junior's diet is well-balanced. A healthy, varied diet would include:
at least six servings from the bread, cereal, rice, and pasta group;
at least one serving of a fruit or vegetable rich in Vitamin C such as oranges and tomatoes;
at least one serving of a fruit or vegetable that is rich in Vitamin A such as carrots and cantaloupe;
at least three servings daily of other fruits and vegetables;
three servings of whole milk, yogurt, and cheese;
two servings of meat, poultry, fish, or protein alternatives such as peanut butter or beans;
and three to four teaspoons of fats and oils.
A child's serving size is one-quarter to one-third of an adult portion – or one tablespoon per year of age. In other words, for 18-month-old kid, a serving from the meat group would be one to two ounces of chicken or about 1-1/2 tablespoons of ground beef. A low-fat diet is NOT appropriate for children under the age of two.
Snacks that contain some protein, some fat, and some carbohydrate will be hearty and filling. A steady diet of candy as a snack is similar to letting Junior dine from the sugar bowl. Since sugar is typically the main (or only) ingredient in candy, it provides little nutrition other than calories. Nutrition aside, small pieces of candy can also perpetuate choking.
Crackers are a good start as a snack, but you may want to add some cheese or chase it with some whole milk to add some servings from other food groups.
Here some other healthy snack ideas:
whole milk and graham crackers
cereal and milk
fruit or vegetables and cottage cheese
yogurt and a mini-muffin
Also read: